13th Graduate Student Conference of the Young Scholars' Forum of the Association for Canadian Studies in German-Speaking Countries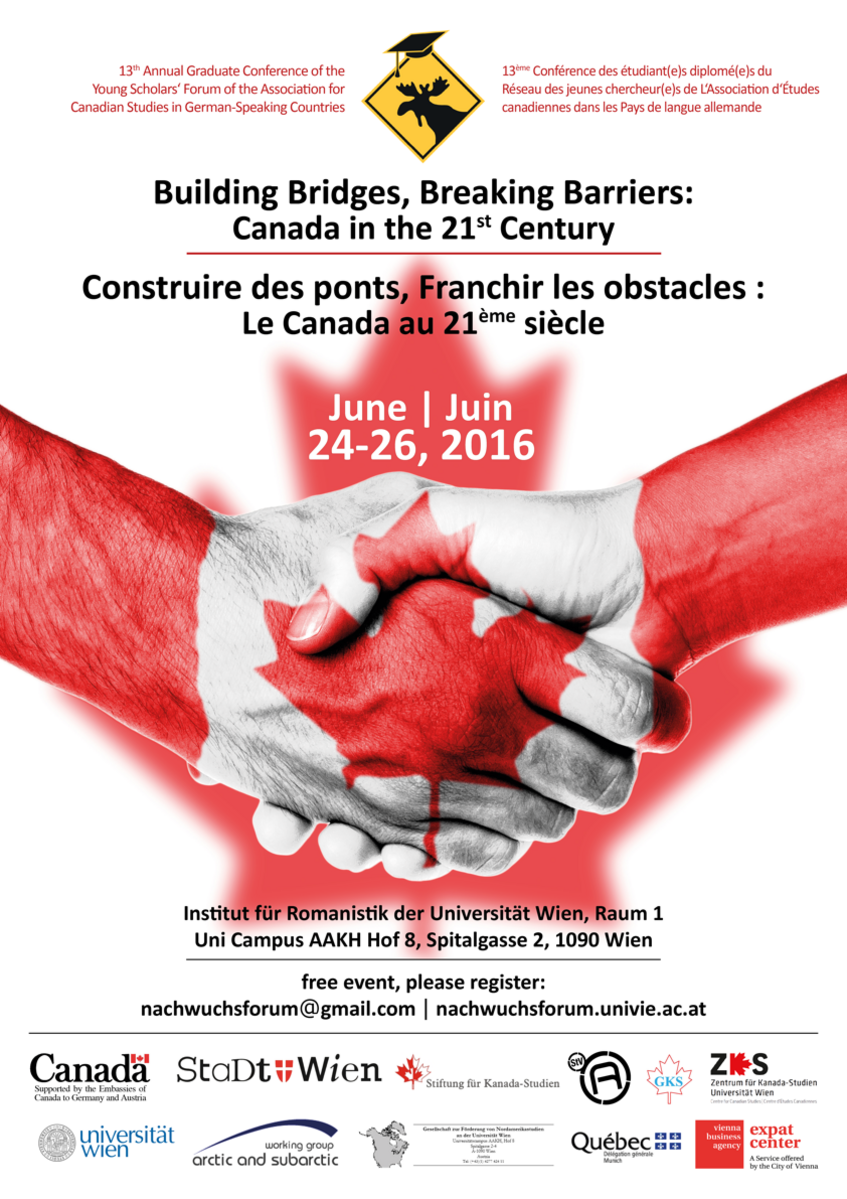 13th Graduate Student Conference of the Young Scholars' Forum of the Association for Canadian Studies in German-Speaking Countries
University of Vienna
Institut für Romanistik, Room 1 (ground floor)
June 24-26, 2016
In May 2014, Austrian drag artist Conchita Wurst won the 59th Eurovision Song Contest and set in motion a wave of responses resonating beyond the borders of the country. In only one year, Conchita – by now the so-called "Queen of Austria" (ORF) and the "queer star on the European horizon" (The Guardian) – has transformed into an icon, not only of pop culture, but first and foremost of tolerance, diversity, respect, and freedom as she continues to promote the 2015 contest's motto "Building Bridges." Her anti-discrimination campaign has increased awareness of the necessity for change on social, cultural, and political levels, and has encouraged new debates about human rights, not only in Europe, but on a global scale. As such, CTV's Canada AM has argued that just as Eurovision is about more than songs, Conchita's message concerns more than Austria. Her message transcends the borders of Europe and continues to impact even Canadians, who are struggling with current affairs such as the refugee and asylum seeker debates, which have dominated even Canada's federal election campaigns this fall. Mirroring the increasingly difficult situation Europe has been facing, this reflects Canada's ongoing status as a space of encounters and multiculturalism, but also of separatism and (neo)colonial policies.
The 13th graduate student conference of the Young Scholars' Forum taking place in Vienna in 2016 is thus titled "Building Bridges, Breaking Barriers: Canada in the 21st Century." It aims at exploring Canada's cross-cultural and transnational dimensions; the realities of its histories, geographies, cultures, politics, and, above all, its people and identities, that have shaped and transformed it into its current state as a multicultural dominion a mari usque ad mare ("from sea to sea").
Topics and disciplines to be addressed (in English and French) will include:
(Im)Migration, Integration, Refugee & Asylum-Seeker Debates

Anglo- and Francophone Canadian Literatures & Cultures

Indigenous Studies

Multiculturalism

Gender & Queer Studies

Media & Film Studies, Visual Culture

Anthropology, (Ethno)History, Geography, Politics & Economics

Language, Linguistics & Translation

Canada/Québec and the World
The conference will take place from June 24-26, 2016 at the University of Vienna, Austria. It is designed as an open network for young scholars (advanced BA/MA students, doctoral students, and post-docs) in the field of Canadian Studies to present their ongoing research, to network, and exchange ideas with colleagues and fellow Canada-enthusiasts.
We look forward to your contributions and are excited to welcome you in Vienna in 2016!